Welcome to AGR Hunting Services LLC.
AGR Hunting Services is operated by Tony and Jeanne Rieken.
Tony Rieken has been hunting, essentially, his entire life.  Tony was born and raised in Edgewater Maryland just outside of Annapolis.   He lives in the home that he grew up in.  His wife, Jeanne, handles the office work and the meal planning.  Between them they have three daughters and one son.  They are proud grandparents to three awesome grandsons and two beautiful granddaughters.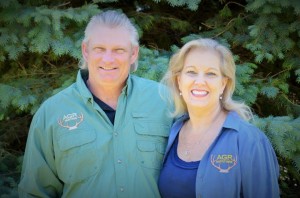 Tony began guiding in Big Sandy, Montana for Chase Hill Outfitters.  He has been lucky enough to continue guiding in Montana for the past 20 years.  He is Red Cross First Aid Certified and maintains a Montana Guide License.
Tony has hunted all across this great country and also hunted in South Africa at John X Safaris, in New Zealand at the Woodbury Safari Lodge and with International Adventures Unlimited in Scotland. Tony and Jeanne returned with lots of African, New Zealand and Scottish animals and awesome hunting memories.  Tony has hunted bear in Alaska and at the Flying B Ranch in Idaho.  Tony also enjoys fishing with his friend, Larry Weekley, in both Ocean City, Maryland and Oregon Inlet, North Carolina.
In 2006, Tony began AGR Hunting in his quest to hunt prime whitetail deer in southern Iowa.  In 2012, Tony added an experienced guide.  That year, he was able to purchase a seven bedroom-three full bath house in Promise City, Iowa.  The hunting in this area is excellent.  This is magnificent whitetail habitat.
Tony and Jeanne are committed to providing an excellent hunting experience!